Today I heard the news that John Taverner, the composer had passed on. On Radio 4 if I recall correctly from the Today programme that his key desire was to try via music to imitate the Word of God...or words to that effect! However, he has left an interesting amount of music with strong religious, and mystical connatations.. He was also essentially a Truth-Seeker....
RS
John Tavener dies at 69: the veil falls for the final time
The British composer's music is essentially spiritual, but in a much more fearless way than his detractors think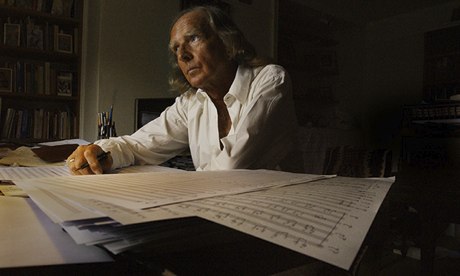 John Tavener
, who has died peacefully at 69 at his home, was the single most popular British classical composer of the late 20th and 21st centuries. His music has become part of public consciousness, making him a unique cultural figure.
When Tavener's
Song for Athene
was sung at Diana, Princess of Wales's funeral in 1997, the music's haunting austerity was a lightning conductor for the grief of the watching millions, its deceptive simplicity somehow expressing and comforting those teeming collective emotions. When his cello concerto,
The Protecting Veil
, was premiered at the Proms in 1989, the effect was similarly rapturous, as Steve Isserlis's playing transported the audience into a realm of mystical contemplation.
The Lamb
, a choral setting of William Blake from 1982, is another of Tavener's most celebrated works, music that's once heard, never forgotten, its delicate radiance realising a rapt timelessness.
But
Tavener
was already famous before the 1980s.
He was signed to the Beatles' Apple label in the late 60s
("I was less surprised at John Lennon's enthusiasm, but I was surprised at Ringo's," he later said), and he was the only classical composer of his generation to approach pop-star fame.
Then in his 20s, Tavener was an ethereally glamorous figure, with his luminously thin figure, flowing hair, and otherworldly stare. That thinness was later to be diagnosed as a symptom of Marfan Syndrome, which contributed to the health problems he endured in recent years.
The music Tavener was famous for in the 60s was tumultuous, chaotic, modernist, and radical – another world from the Orthodox-inspired spirituality of his later works. His wacky cantata The Whale was the piece that inaugurated the new-music firebrands of the London Sinfonietta in 1968, and it was also his first release on Apple a couple of years later, with its mix of electronics, football rattles, serialism, crunching dissonance, and even a whip.
His Celtic Requiem, also released by Apple, was even wilder, a postmodern political happening with its Irish folk tunes, electric guitars, and children's songs.
Tavener's turn to a world of spirituality, via the Russian Orthodox church, was the inspiration for much of his music of the late 1970s onwards, and it produced a whole series of works of celestial simplicity and often heavenly length: longest of all his seven-hour dusk-to-dawn vigil,
The Veil of the Temple
, composed in 2003.
But it was this spiritualising tendency that turned critical opinion against him. Tavener was branded a "holy minimalist", a phrase that condemned some of his more accessible choral music to collections of "Relaxing Classics", as if what he was doing as a composer was cynically tapping into cheap, superficial New-Ageism.
Nothing could be further from the truth. The most popular pieces of Tavener's, like The Lamb, were often written as personal tributes to friends or family without a thought for their populist potential; his much more dissonant and demanding larger scale works like
Ultimos Ritos
or his opera for Covent Garden,
Thérèse,
have not been performed as often as they should be.
I met him earlier this year at his Dorset farmhouse,
a paradise of earthy domesticity with his wife Maryanna and their three children, and he told me that his spiritual journeys "almost paralysed" him. He also revealed how much he regretted the stereotyped image of him, surrounded by icons and candles.
Tavener's is an essentially spiritual music, but in a much more intellectuallyfearless way than his detractors think. He wanted his music to tap into a region beyond conventional understanding – "I wanted to produce music that was the sound of God. That's what I have always tried to do" – but increasingly, his music offered doubt and darkness in its evocation of that unknowable vastness instead of a comforting musical palliative.
In 2007, Tavener suffered a heart attack in Switzerland that almost killed him. When he recovered, he was living in a new world of constant pain and shortness of breath. He found himself responding instinctively to music of terse difficulty that had previously not attracted him – late Beethoven, Karlheinz Stockhausen – and rediscovering the music that had inspired him to become a composer as a child, Stravinsky and Mozart.
When I last saw him, Tavener spoke of his recent music, such as his version of Tolstoy's nihilistic The Death of Ivan Ilyich, which was
premiered at this year's Manchester Festival
, as epiphanies of pain transfigured into music.
"Suffering is a kind of ecstasy, in a way. Having pain all the time makes me terribly, terribly grateful for every moment I've got," he said. But Tavener seemed to find a joy in that difficult truth.
At its best, Tavener's music is a cathartic confrontation with the biggest of all life's questions. Yet, like the man who wrote it, the music invites you into its world with charm, gentleness, humility, and a twinkle in the eye.
By
Mark Beech
-
Nov 12, 2013 5:34 PM GMT
Bloomberg
John Tavener, a U.K. composer known for works such as "Song for Athene," played at the funeral of Diana, Princess of
Wales
, died today at the age of 69.
Tavener, who was a friend of the Beatles in the 1960s and later of the
Prince of Wales
, died peacefully at home in Child Okeford, Dorset, according to his publisher Chester Music.
The composer first came to public notice when his work "The Whale" was released on the Beatles' record label Apple.
Tavener's other works include the cello-led "The Protecting Veil," which topped the charts in 1992. The epic "The Veil of the Temple" ran for more than six hours.
He will be remembered for many short religious and choral works such as "The Lamb" and "The Tyger." He was honored with a knighthood in 2000.
Tavener had suffered health problems including a heart attack in 2007. He was also diagnosed with Marfan Syndrome and said near-death experiences had influenced his austere music, sometimes described as "Holy Minimalism." His work was compared to the compositions of contemporary Estonian composer Arvo Part and also to English musician John Taverner (1490-1545).
Tavener had recently appeared on radio to talk about the
London
premiere of his latest work "Three Shakespeare Sonnets," which takes place in Southwark Cathedral on Nov. 15.
"The most important thing about music is not what one writes down," he said in an interview with Bloomberg in 2007. "It is what is left out. One should move towards silence."
(Mark Beech writes for Muse, the arts and leisure section of
Bloomberg News
. The opinions expressed are his own.)
.....Resume of a Radio4 Programme (Hearing Ragas) in connection with Tavener which may be of interest, and relevance
This is violinist Professor Paul Robertson's remarkable story of the Indian ragas he heard from within a coma, and the healing effect that Sir John Tavener's music had on him in his recovery.
When Paul and John met at a conference in 2007 they discovered that they had a shared interest in near death experiences. During the course of their conversation, John stated that he wanted to write a piece for Paul involving four string quartets to be called "Towards Silence". John duly wrote the piece and Paul started to make arrangements for its premiere. At this point, John suffered a heart attack and was taken into intensive care in Switzerland. Within weeks, Paul's aorta gave way and he found himself in a London hospital. During his six week coma, Paul had a series of horrific visions, but was occasionally comforted by the sound of a woman singing Indian ragas. Only when he came out of the coma did he realise for the first time, that the music John had written for him: "Towards Silence", was based on an Indian raga. Paul then used the practising of this piece to rehabilitate himself after the paralysing strokes he'd suffered during his coma.
In this programme, Paul and John are brought together to share their experiences properly for the first time and to talk about what happened to them; how they view their respective illnesses and how these episodes have changed their lives.
It includes music by Sir John Tavener, a soundtrack by Simon Hall and Sanchita Pal singing Ragas.
Producer: Rosie Boulton
Click below on clips for a longer version of the broadcast programme which includes more detail about Paul's recovery:
And also on clips you can hear more of the conversation between Professor Paul Robertson and Sir John Tavener which includes thoughts about whether physical suffering serves any good purpose if it's possible that their respective illnesses were in some way pre-ordained by themselves
http://www.bbc.co.uk/programmes/b01mf7nd